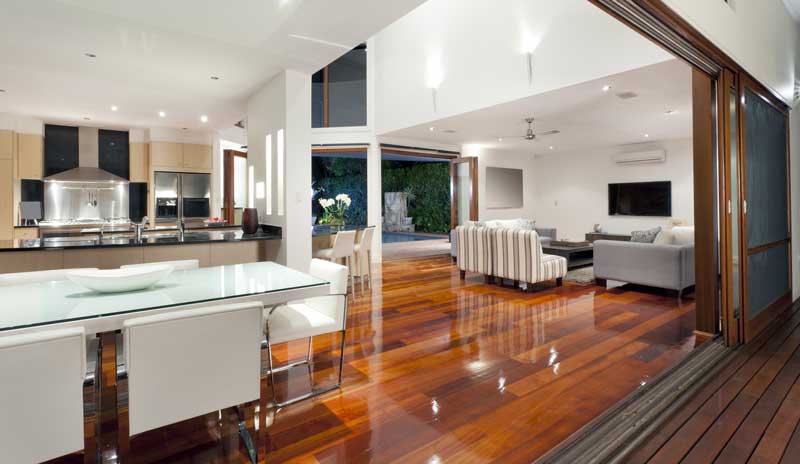 The best features to add value to your home.
For years we've been told that resale value was all about "LOCATION LOCATION LOCATION" but new priorities are emerging. Here is a rundown of some of the best to incorporate into your build.
"Livable" design
There's a lot of emphasis on "livable" design these days and people will definitely pay extra to get it. Livable Design means creating a home that meets the changing needs of its occupants. By adding some "livable" features to your home you're increasing it's appeal and widening your market – these features appeal to older buyers, young families and everyone in between. "Liveable" design also looks great and lives up to its name, so your home should comfortably fit your lifestyle for years to come, and be ready for its next owners too.
A spacious, open plan layout is often key, with a good flow through the design, and the flexibility to change with family circumstances. Other elements that are becoming increasingly popular are wide, step-free entrances, over-size doorways and generously-sized hallways. Also well thought out kitchen and bathroom design with clever fixtures and fittings (think touch taps for example) …
"Smart" technology
A "smart home" is controlled by a computer system, or even from your smart phone. There are endless possibilities with this technology but it can become overkill. The best smart homes are convenient, comfortable, secure and efficient, with heating and cooling, blinds and shutters, lighting and home entertainment centrally controlled. For example your system might sense that you're home from work and so turn on specific lights, deactivate security, turn on your favourite tv series and start warming the living areas for you.
Systems can be installed into older homes or new builds and there are a range of options, and thus a range of prices. Remember that if you want something like this as a retrograde install it might be as part of a larger overhaul of your electricals. Smart technology can add a lot to a home but it needs to be about convenience and efficiency – if managing your smart home is taking more time, not less, it might not be worthwhile.
Rather than going for a fully "smart", you can add some simple smart features like automated security systems or climate control that will add value and appeal. Blinds that are motorised and on timers are also readily available and easily installed. They're a great addition to all rooms, controlling both temperature and light. Motorised block-out blinds can especially be a nice, luxurious touch in bedrooms.
Kitchen
The kitchen is still the single most important room in a house for buyer decision. Obviously a great looking kitchen will get potential buyers on side, but most importantly it's your appliances. Buyers are looking for new, top quality appliances, with Energy Star approved appliances proving a major selling point. Granite or composite granite bench tops are still popular and worth the investment, especially as it's become more affordable in the last few years. Also consider solid wood kitchen cabinetry as another worthwhile investment – it looks great and is also a good option for easy renovation down the track.
Bathrooms
After the kitchen, your bathrooms will probably be the rooms that hold most sway when it comes to the overall appeal of your home. The current trend for spa-like master bathrooms isn't going to disappear soon, so be generous when allowing space for this room. Larger, walk-in showers with a rain shower head, or twin shower heads, an oversize tub with jets, dark and dramatic tiling and simple, stylish cabinetry … All these things add a touch of day-spa opulence. Interestingly, it might be worth reconsidering your separate toilet if you can gain more space by combining toilet and bathroom. Toilet design has come a long way and the modern home buyer doesn't seem to mind having it incorporated into the bathroom as long as the space is generous and glamourous.
One bathroom is not enough for the modern family, and ensuites have become an expected feature in any home. These are usually smaller than the master bathroom but it's a great idea to take the same finishes through both spaces. A great ensuite with clever use of space can give your home a big tick of approval.
Two bathrooms are a must but if you can fit a third, even it's a purely utilitarian space with toilet and sink – perhaps off the laundry or accessible from the backyard – it's well worth considering.
Master Bedroom
The current trend in master bedrooms is to create a retreat-like room away from the main living areas. Space is important so make sure it's a generously sized room with clean, integrated storage. An adjoining ensuite is a must and combining it with a walk-in robe is a great idea. Think of other ways to increase the "livability" of this room – a small sitting area, automated shutout blinds, french doors to a small private courtyard. There are many great options and ideas.
Storage
The trend for homes is streamlined and uncluttered and one of the major players in this theme is integrated storage. Add as much as you can to hide your necessary clutter. Bedrooms and living areas will all benefit from the inclusion of generous storage areas and purpose-built units for appliances. Walk-in wardrobes and pantries are popular as are generously-sized laundries with space for linen storage. When planning a new build, talk to your designer and builder about how you can include as much cleverly incorporated storage as possible – you could be surprised by the possibilities.
Flooring
It might not seem an obvious inclusion but interior flooring is one of the first things buyers look at when entering a home. Floors are expected to be clean, contemporary and stylish, and there are a lot of great options on the market. Timber flooring or tiles are a good choice for living areas where carpet can quickly become a little sad looking. It also means you can run the same flooring through all rooms for a seamless, spacious look.
If you like the look of timber flooring it's well worth looking at some of the alternatives – there are fantastic vinyl products that look exactly like beautiful timber but without the price tag and the maintenance. There are also new tiles on the market that have the appearance of timber, for example in parquetry patterns, that look sensational and are a great choice for a floor that's going to last.
Carpeting can make the bedrooms more cosy. Consider going for a darker neutral colour that will keep it's looks longer than the standard choice of cream as well as creating a restful, stylish haven. Don't be afraid to take hard flooring through the bedrooms too. It gives a clean and unified look to your home and can also give the impression of a larger overall space. Good quality rugs can be used throughout to delineate areas and add some warmth to your interiors.
Outdoor Living
Home buyers have come to expect a lot from their outdoor spaces. Even if you only have room for a small outdoor living area there are lots of ways to capitalise on it. Also remember too that outdoor living areas don't have to be attached to the house. You might have the perfect spot in your garden for a stand-alone pavilion, fantastic for alfresco meals and weekends outdoors. Buyers will be looking for integrated outdoor kitchens, good solid flooring, built-in seating and storage and generous space. Combined with attractive, low maintenance landscaping outdoor living can be a definite plus.
Pool
There has always been some question about whether pools add value or not. Australia has the highest rate of pool ownership per capita so it would seem that they're definitely popular. To be smart with your pool investment you need to think about it within the context of your backyard's proportions. If you have the space and it won't overwhelm your garden it might be worth adding a pool, and there is something of an expectation that quality new homes will include one. The good news is that there is a definite trend for smaller pools that are sited close to the house allowing easy access and supervision as well as becoming a design feature for the home. Keep the design and finishes clean and simple so that your pool area remains stylish and doesn't become outdated. It also makes it easier to update in the future.
The Value-Adding Formula
Increasingly the trend is to create a home that has a "hotel" or "resort" feel, with generous, uncluttered spaces, master bedroom suites, spa bathrooms, gourmet kitchens, smart appliances and luxury outdoor spaces. If market value and saleability is important, think about how you can include some of these features when building or renovating.